Michael's 4-Step Strategy
That's interesting, I would have expected it to level those swings out a bit more. Proportional staking will effectively return the same amount every time you get a winning bet, the amount will be proportional to the bankroll size. 
I think going for 100 days is a good idea and seeing where we stand at the end of it. 
Topic starter
15/12/2020 5:47 am
Now I appreciate if you say you can't help here for whatever reason (commercial or otherwise). If you can, great!
I am putting my selections over the last couple days on a hidden page on a website where I can place units 'bets' and it tracks all sorts of stats (RoI, unit profits etc etc)
My only problem here is that the site only allows 'To Win' bets or 'Each Way' bets but does not give me an option to place a bet on 'To Place' market only. It insists on 'Each Way' or 'To Win'.
So trying to 'bet' on places is slightly more difficult. I don't suppose there is a way to reasonably calculate a combined Win/Place odds? The betting strategy kinda relies on exact odds.
Or would it just be easier to track down another site that could do all this work for me?
There isn't any way, that I know of, to efficiently calculate a combined win/place odds. We can calculate an estimate of what the place odds should be based on the win odds, but it's pretty complicated and doesn't mean that's what will be available in the market.
Topic starter
15/12/2020 11:02 am
I had a sudden thought about my graphs recently. Here is another version where I did not just use the dates I made the selections but rather the days counter.
This is the graph using the strategy you linked me a while back.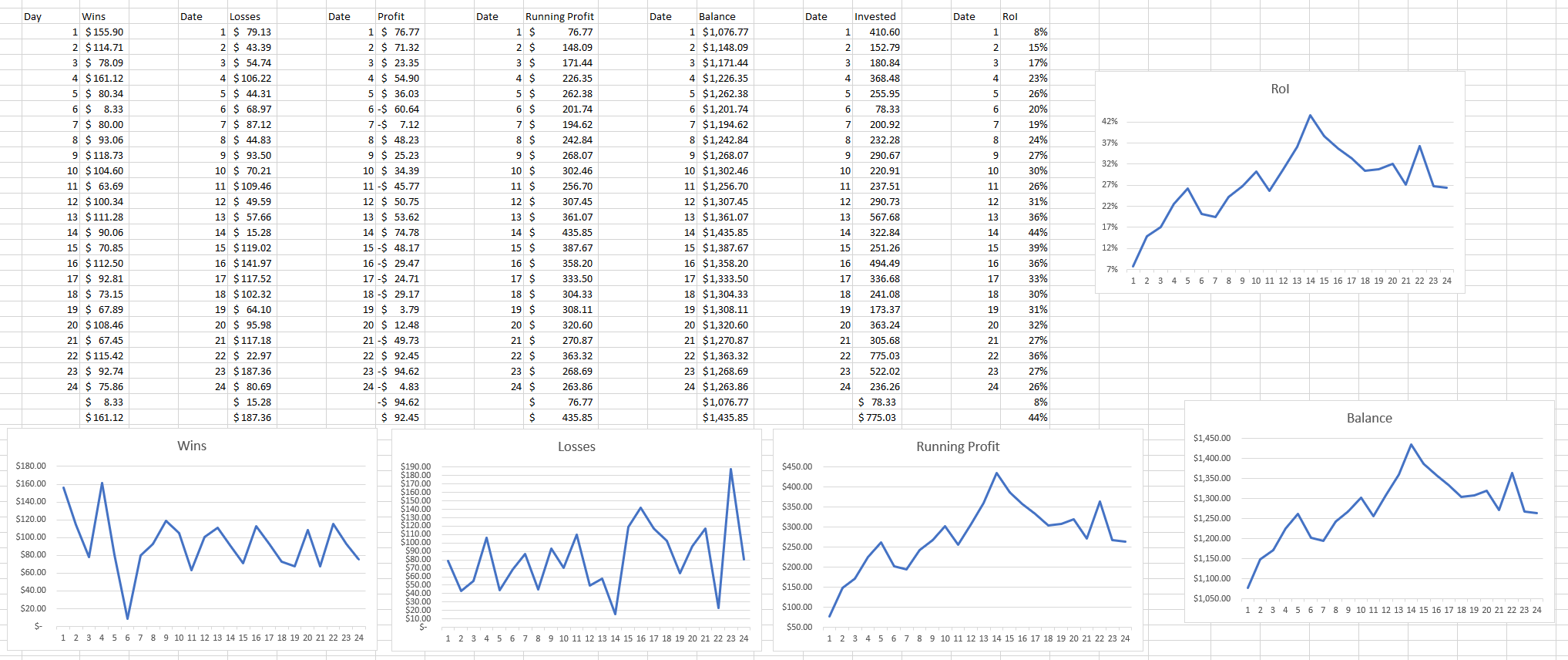 Topic starter
13/01/2021 12:05 am
This is interesting. The MC method I am measuring myself against has slipped below 1 A/E over lifetime figures.

Whereas I am maintaining a 4% edge in my 'to win' selections.
Topic starter
15/01/2021 12:57 am
@balimaar the Monte Carlo method not containing any manual assessment?
Correct.
Topic starter
15/01/2021 1:37 am
Actually slight lie. I remove DSLGR >180 and any horse without a DSLGR number (as I do normally).
Then I run MC.
@balimaar any approach with a manual assessment before the final selection should out-perform a fully automated approach (full statistical team modelling aside). It's why I talk so much about using contenders and then FMFR on them. 
Topic starter
17/01/2021 11:25 pm
I'll continue to run MC of course during my 100 day trial. But its nice to know I am starting to really perform and pull ahead of a purely automated selection process.
Topic starter
21/01/2021 10:38 pm
Is it just me or is the button to access the forum missing? Or is it hiding somewhere?

Pretty certain I remember accessing the forum via a button on the top.
The only reason I am able to post in this thread is I was lucky enough to bookmark my thread here.