[Solved]

Betfair Odds Update
Hi Michael
It may be addressed by the move to the new database but I would like too see a more frequent update of the Betfair live odds on the racecards. Quite often there is a major discrepancy between the Betfair live odds and what is showing on the race cards. E.G. At 18.09 this evening the 18.10 Navan card had Quite Subunctious at 5.80 but on Betfair the odds to back were 34.00. At 18.55 the 19.00 Wolves card had Charming Spirit at 4.1 and Betfair was 6.0. Not sure what is technically feasible or how often it is meant to update but once say every 2 mins would be a help. Significant variations in odds undermine the Monte Carlo tool which by the way is a great feature. 
Regards
Ray Jones
We've now sped up the process so that all races odds will be updated at least once per hour, and faster in the last hour before the race
I've randomly checked some races early-mid afternoon tomorrow and they're all pretty close. We check hourly leading up to the race, and then every two minutes before the race goes off.
It is on our roadmap to improve on this integration with Betfair. If you see a big disparity again just before a race goes off, please let me know.
HI Michael, the missing betfair odds update seems still to be there... The races which are more than 1 hour before the off are not really well refreshed. It seems that these races are scanned shortly after the markets opened but then there is no or only one update in the morning... Bath 16:10 for example .. i cann add an screenshot.
Please have a look over this script, one update every hour till the 60 Minute mark is enough for me, but actual its very unusable to use the PR and VWD Odd-Lines with one quick view...
Thanks
Fabian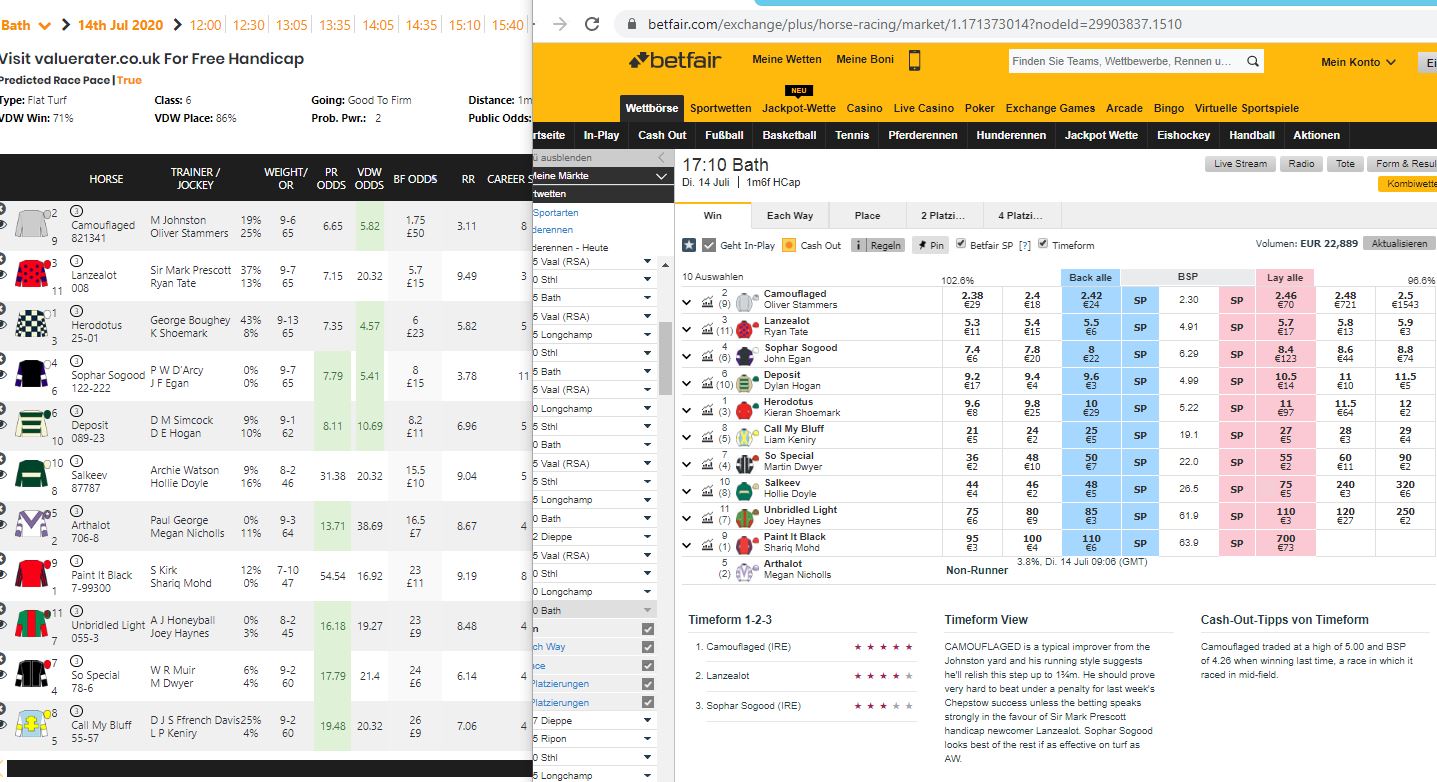 Hi Michael, thanks for your answer, it would be nice to be true with the "once an hour" update, but when i look at the Bath races, only the first two are well updated, all other Bath races have odds which are not useable for reading the card alone (without a look at the actual betfair odds). So its hard to use the PR and VDW Odds (without having a look at the raw data).
Please check it again, it seems to be still a "problem".
Thank you
The odds are definitely updating hourly, and faster in the hour before the race. We have a log of every single update and the odds taken each time so we can check this, and I can confirm they are coming in every hour. Sometimes, where there is no bet matched, Betfair will return the odds of where the current money is waiting on a horse, in outsiders this could mean it's significantly shorter until there's a bet matched. If that bet is matched just a few minutes after we check, then it will be behind until the next hour.
I appreciate that ideally we want an up to the second odds-feed, and as you know this is in the development plan.